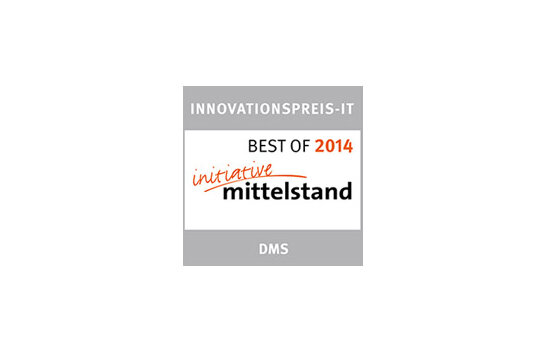 With the Content Server and Migration, two kgs products have made it onto the current Initiative IT-Mittelstand best list.
The IT Best Lists of the Initiative IT-Mittelstand were awarded in 41 categories this year; the Innovation Award IT 2014 was presented for the eleventh time at CeBIT on March 11. A jury of more than 100 experts, including professors, scientists, industry and IT experts, and trade journalists, evaluated more than 5,000 products according to the criteria of innovation content, practical relevance, market maturity, and suitability for SMEs. For the first time, users were also able to directly rate each innovation themselves.
This year's "Best of 50" also includes two products from kgs, which made the leap from a standing start into the ranks of the award winners: the tia® Content Server and tia® Migration. The success of kgs in the midmarket is due to the fact that many SAP user companies are currently consolidating their IT landscapes in order to use SAP as a central system. For this purpose, kgs has developed suitable software tools and complete solutions.
For document management and the reorganization of archiving processes in SAP, kgs offers the tia®Content Server, a storage-based system that makes any documents centrally searchable via SAP. Another successful product, especially in the midmarket, is Migration, software for simple and controlled data and document migrations for all ArchiveLink-certified archive systems. The background to this is the current large number of archive migrations in the SAP environment - a growing trend that will continue in the coming year.