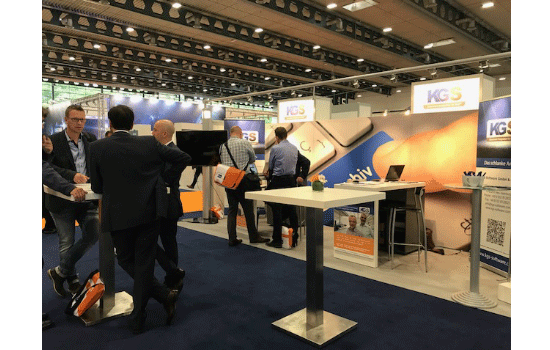 kgs with positive summary of the DSAG annual congress 2017
More than 50 percent more leads than last year and an increasing level of awareness of kgs - the specialists for SAP archiving draw an extremely positive conclusion of their participation in the DSAG Annual Congress 2017. In Bremen, kgs was able to convince with its argumentation that, in view of S/4HANA, the time is ideal for SAP users to replace external, large ECM systems and rely on lean SAP archiving.
The topic of document archiving is being redefined with S/4HANA, because S/4 offers essential functions for managing unstructured content. This means that a lean archiving approach, in which the archive is subordinate to the ERP system, is the best fit for the new SAP product generation.
SAP customers with existing archives can initially retain their existing archive integration and continue to use it under S/4. This provides peace of mind for the time being, but does not protect against a later migration to the new interfaces and integrations. For this purpose, kgs offers a powerful migration software with Migration, which was also shown in Bremen. At its booth, kgs demonstrated migration projects away from a proprietary ECM system to a lean archive.
kgs offers all the necessary interfaces for a secure future with HANA. In addition to the familiar archive integrations via ArchiveLink and BC/ILM (Webdav), there are new interfaces and concepts such as a CMIS interface (CMIS = Content Management Interoperability Services), which can be used to store and retrieve original documents. CMIS can also be used to manage metadata. Thus, document management with SAP S/4 HANA moves even closer to the ERP system.