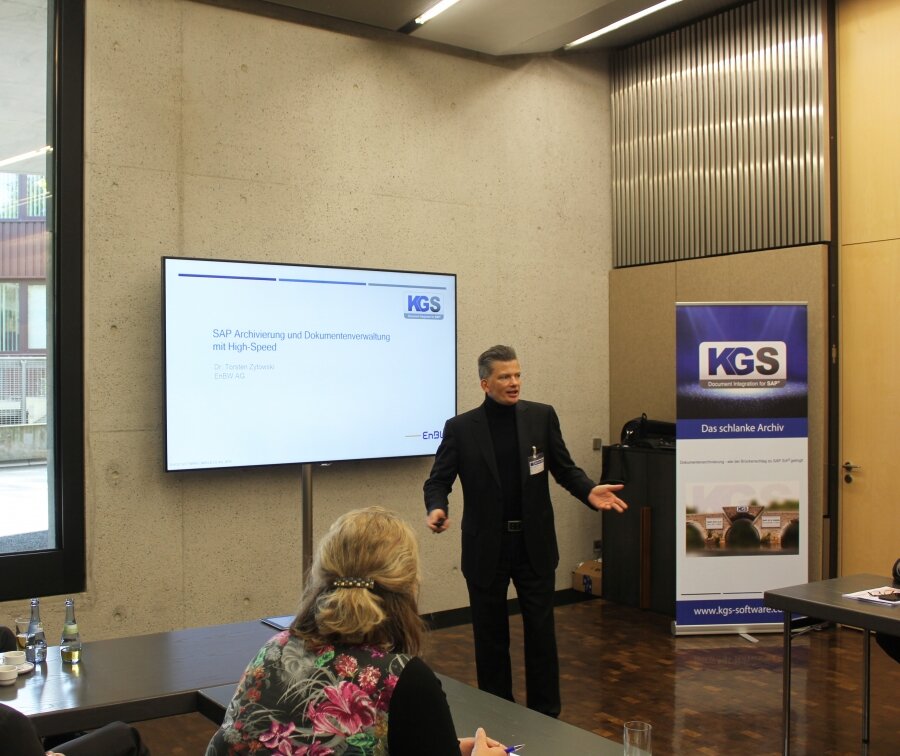 Full rows at the first "kgs Meet Up" customer day at TRUMPF in Ditzingen.
Neu-Isenburg, October 19, 2016. Nearly 30 representatives of existing and new customers of kgs solutions for SAP-integrated document management and archiving, as well as interested parties, met at the beginning of October at the premises of TRUMPF GmbH + Co. KG in Ditzingen. The high-tech company implements a lean ERP-centric approach to document management with kgs and uses the Content Server to archive globally distributed CAD documents from SolidWorks, among other things.
The Trumpf project team shared its experiences with attendees at the kgs Meet Up, and there were also presentations by kgs customers Knauf Gips KG, Loewe AG and EnBW AG. kgs itself provided information on the topic of migration - away from a proprietary ECM system that is overloaded with unnecessary functions, and towards a lean archiving system. After all, the bridge to SAP S/4 HANA® can only be successfully built if IT does not drag along any unnecessary ballast. The event was rounded off by a tour of the TRUMPF demonstration center. All participants benefited from the networking and the exchange of ideas, so that the next date has already been set: on February 15, 2017 at Loewe in Kronach/Upper Franconia.